Antique Connection
We carry a diverse line of antiques. Our specialties include Victorian hatpins, Edison cylinder phonographs, Shelley china, and Victorian canister sets. We also deal in lady head vases, wallpockets, eggcups, Christmas ornaments, metal mesh purses, dresser sets, Wavecrest, art glass, saltboxes, picture records, and Ceramic Arts Studio pieces.
We appear at shows as A Touch Of Glass.
Show Schedule: on hiatus during COVID-19
But we are selling at AC on Ebay.
About
We began our antique business 35 years ago. We display antiques at shows in the northeastern United States.
Anita De Old - I am a retired special education teacher. I became interested in antique hatpins 30 years ago, when I was looking for something different to make a decorative arrangement. As a longtime antiques buff, I had admired vintage hatpins when I visited shows. I think they are truly works of art. They date from 1875 to the early 1920s and were used when women's gigantic hairdos were topped by elegant, large-brimmed hats. The pins anchored the fancy headgear to their coiffures. The fashion lasted until the mid-1920s when women bobbed their hair.
Al De Old - I am a retired industrial arts and technology teacher. I spend a lot of my spare time putting together my large collection of old Edison phonographs and cylinders. I limit my selection to early cylinder type machines, which are becoming more difficult to find in good condition. I have Cygnet, morning-glory, and brass horns. I've been interested in the machines ever since I was 5 years old, when I visited an uncle who had vintage Edison phonographs.
Here we are with our grandchildren: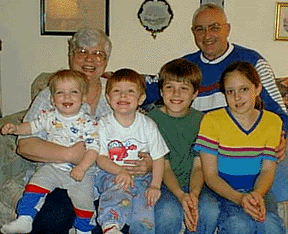 Kevin, Jeremy, David, and Jenny
Advice
If you have antiques you would like to sell, there are several options.
The first is offering the antiques to dealers who specialize in that type of antique. The easiest way to find these dealers is to attend antique shows. Bring pictures, so that the dealers can determine if they are interested. Arrange to show your antiques to the dealer at another time. The shows are usually too busy for the dealers to give your antiques their full attention.
Another is to contact auction houses. This is most practical if you have a lot of antiques to sell and very little time. The auction house may buy your antiques outright, or on consignment, taking a percentage of the selling price of those pieces that sell.
We encourage you to check with family members before selling any belongings. Sometimes a loved one may wish to keep an antique in the family, or have special memories of you along with the antique.
Contact