Meet Anita and Al
Anita and Al De Old began their antique business, A Touch of Glass, 25 years ago. They display antiques at shows in the northeastern United States. In addition to the specialties highlighted on this site, they carry a full line of antiques, including art glass, dresser sets, chocolate pots, antique Christmas ornaments, sterling bangle bracelets, cobalt glass, and other interesting items. They enjoy bringing their knowledge online with the Antique Connection website.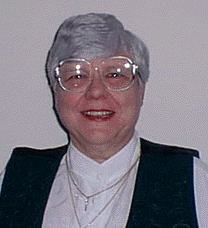 Anita, a retired special education teacher, became interested in antique hatpins 30 years ago, when she was looking for something different to make a decorative arrangement. "As a longtime antiques buff, I had admired vintage hatpins when I visited shows. I think they are truly works of art. They date from 1875 to the early 1920s and were used when women's gigantic hairdos were topped by elegant, large-brimmed hats. The pins anchored the fancy headgear to their coiffures. The fashion lasted until the mid-1920s when women bobbed their hair."
She notes that hatpin decor comes in different shapes and sizes. Some have pearls, amethysts and other semi-precious stones, which are set in gold, silver, brass, or white metal. "A few rare examples have cleverly concealed miniature compacts or brooches. And some pins are as long as 14 inches."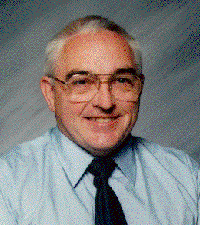 Al, a retired industrial arts and technology teacher, spends much of his spare time putting together his huge collection of old Edison phonographs. He limits his selection to early cylinder type machines, which are becoming more difficult to find in good condition. He has Cygnet, morning-glory, and brass horns. He also has a prized 1906 phonograph with a Cygnet oak horn, a family heirloom, with which he will never part. "I've been interested in the machines ever since I was 5 years old, when I visited an uncle who had vintage Edison phonographs."
He also collects cylinders, which are often harder to find than the actual phonographs. "While many of the old phonographs were carelessly stored in musty garages, most of the old cylinders were stored even more carelessly. I find this frustrating, because so many of them are broken and mildewed." A pro at restoration, the collector refurbishes phonographs to ensure that everything is in mint condition.
In recent years, Al has occasionally portrayed Edison during special celebrations. And he continues to relish his hobby, which puts him in contact with collectors from all over the world.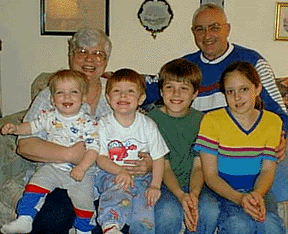 Anita and Al with their grandchildren:
Kevin, Jeremy, David, and Jenny


© Online Merchants Inc Antique Connection ®